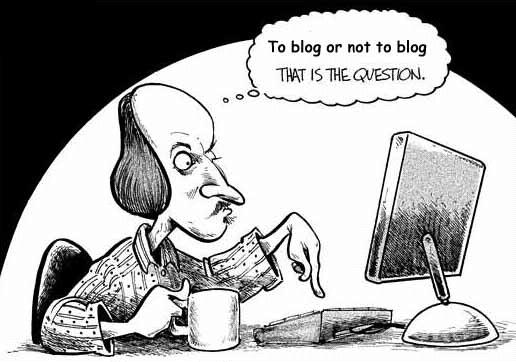 Back in April of 2008 I first set up this blog. Prior to that I had never even thought about having a blog, to be honest. I didn't really know that much about it, other than the bare minimum of what constitutes a blog.
And I spent a lot of time on a couple of forums where I would end up posting youtube clips or interesting articles and news stories that I liked. This didn't make EVERYONE happy as some would rip me for constantly doing this, and suggested I get my own blog to post random shit I was interested in.
And although that was obviously not meant as a polite suggestion, but rather just an insult, the idea stuck. Why not get a blog and post stuff that interested me? I'd often find that I'd read stories that either inttrigued me or infuriated me, and I just had to express my thoughts on that. Sort of like a writer who just writes because he wants to get the ideas out of his head, not as much to get published.
So I looked around and Google's Blogger seemed to be the consensus for the easiest to set up. I'm not the most tech savvy person so Wordpress was way too complicated for me. Blogger seemed to be perfect for me.
And so on April 9th 2008 this blog was born. Initially it was simply a place for me to post random clips of videos or link to a story that caught my attention. I wasn't as much editorializing as I was simply linking and throwing a quick comment.
*MORE AFTER THE BREAK*
Eventually it expanded to me actually posting my own takes on various subjects, whether it was about movies and music or politics and religion or sports or whatever. Whatever caught my attention. I threw a few widgets on the side to track traffic and hits, just to see where visitors were coming from, and that was pretty much how it started.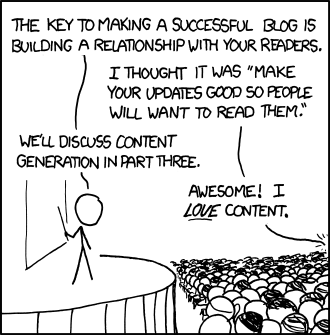 I don't advertise on the site, except a few select music artists that I know and respect their work. I don't use Google Adsense or any of that stuff, because I want to be in control over what is advertised on my site. I've seen too many sites that have ads that contradict the message of their site. Such as a "Trump for President?" banner on a progressive political site.
And while I don't have a massive number of readers on my site, I do have a nice little number. At least as far as I'm concerned. I like that my site isn't a massive site with thousands of hits a day, because I am not the most reliable person in the world. I enjoy being able to post at my leisure. If nothing strikes me for a few days or a week, then I won't post during that time. And then I'll post several times a day for two or three weeks.
It goes in spurts, I suppose.
So anyway, this is three years and running now that I'm doing this blog thing. I didn't know if I would continue to do it because prior to this one I had set up a few blogs that were dedicated to a specific topic, but ended up giving up after a week or so. So this is a surprise to me as much as anyone.
I want to thank everyone who reads this blog, whether this is the first time, or you're a regular reader who bookmarked the site and checks it every day or so. I appreciate the fact that there are people who care about whatever I have to say. That never stops amazing me.
I'd also like to thank a few specific people who have been nothing but supportive of what I do, not matter how insignificant I may view what I do.
The great Miami Kaos. Kaos is a graphic designer, and if you're at all familiar with hip hop mixtapes, then you've no doubt seen his work. Also if you are reading this blog right now, all you have to do is look up at the top and you'll see his work. He graciously blessed me with the banner for my site, and put up with my constantly evolving ideas on what I wanted, starting out with a massive ridiculous outrageous and non workable idea and then reworking it until it is what you see there. I love that banner, and I absolutely consider myself blessed to have someone like Miami that I count as a friend. Check out his website with DJ Dub Floyd at
Get Em 2 The Geek
, a comic book/art centric website filled with wonderful graphics that Kaos has done.
Kyle Murdock
, 1/2 of the group Panacea (with rapper Raw Poetic), and also the producer of such projects "Forever Famicom" with Mega Ran, The CrossRhodes, with Wes Felton & Raheem DeVaughn, and the recently released The Ebony Bed which you can order by clicking the banner to the right of this piece. Kyle's been so supportive of me doing this, and even supplied an intro for the Hip Hop Music Podcast that I do from time to time. He's a real cool dude, and is another man I consider a friend.
Mega Ran aka Random. Along with Kyle, he's shown me mad love and respect and along with Kyle has done a few interviews here, and in one of them he supplied me with what was then an unreleased track "Keep on Teachin" to go along with the interview. Ran is a former teacher who is pursuing his dream of hip hop full time now, and is currently filming a hip hop internet reality show called "Life after Lesson Plans". You can find that on Youtube by
clicking HERE.
There are so many people that help me out and I can't name everyone, but those three specifically needed to be spotlighted for their support, for which I'll never stop being grateful.
I'll leave you with a video which was the very first thing I posted on this site, and is something I think we all need to remember when things get rough. When shit gets crazy in our lives, and we think that things are getting too much to bear, it's important to remember that this is just a ride.
And I now leave you with the late, great, Bill Hicks.